Domaine Les Rosiers is a stunning retreat nestled in the heart of Rodrigues Island, offering guests a serene and tranquil escape from the hustle and bustle of daily life. With its beautiful natural surroundings, charming Creole-style architecture, and exceptional service, Domaine Les Rosiers provides the perfect setting for a truly unforgettable vacation experience.
NOTE: Please phone us on 2180052 or 52543457 to check availability before making your booking.
What you get:
Check-in: 14:00 | Check-out: 11:00

Half-Board: Breakfast & Dinner

(lunch & drinks not included)

Breakfast: bread, butter, jam, cheese, fruit, juice, cake, tea, coffee, milk & chocolate

Dinner: 2-Course menu (main course & dessert)

Opening Hours: Breakfast 07:30 - 9:00 | Dinner 19:00 - 20:00
Restaurant
Breakfast: bread, butter, jam, cheese, fruit, juice, cake, tea, coffee, milk & chocolate

Dinner: 2-Course menu (main course & dessert)

Opening Hours: Breakfast 07:30 - 9:00 | Dinner 19:00 - 20:00


Room Amenities:
Double bed, Bathroom & WC, Veranda / Balcony, Air-conditioning


Honeymoon Package:
Including 25% Discount for the Bride only & a bottle of Sparkling wine

Wedding certificate will be requested - Offer valid until 6 months after the wedding

This offer excludes prime season (November & December) and not cumulative with any other offers


Airport Transfer (with supplement):
Transfer is payable directly at the accommodation

Please contact us if you require an Airport Transfer


Air Mauritius Special Airfare Conditions:
Please contact Air Mauritius for special airfare (subject to conditions)

Book a minimum of 3 nights, up to a maximum of 10 nights and receive a Hotel certificate

Flight Ticket must be purchased a minimum of 7 days prior to your departure date

Simply finalise your Hotel accommodation with us in order to receive a Hotel certificate to present to Air Mauritius

Present the Hotel Certificate provided by us to Air Mauritius and benefit from the Special Airfare Promo


General Conditions:
Flight is not included

Flight cancellation or delay: Customers should communicate new arrival & departure time to Service Providers directly

Failure to communicate in case Airport transfer included, full cancellation fees will be applied and customers will be charged an additional fee for the new transfer

Offer is applicable for Mauritian or Resident with a permit

Rates may vary depending on the date (please select a date to see price) and are subject to availability.

All extras, not included in the deal, will be paid at the time of departure

Special requests are subject to availability and are not guaranteed

The merchant is solely liable to the buyer for the care and quality of the advertised products and services

For group booking of more than 10 rooms, you are required to contact us on 2180052 for your booking.

Cyclone Protocol: If a booking falls within Cyclone Class 3, the reservation will automatically be canceled & will be refunded in the form of store credit to your account.

All clients must provide a Mauritian ID card or Resident permission upon arrival; failure to do so entitles the business to charge the current public rate.





Food & Beverages / Dietary conditions:

Customers with food allergies or dietary restrictions should notify the hotel 48 hours before their arrival.

Without the permission of the management, no outside food or beverages are permitted within the restaurant.





Age Policy:

Customers should be aware that if they fail to declare their kid age properly, a premium will be requested upon arrival





Policy on Postponement:

Any request for a postponement is not guaranteed and must be notified at least 48 hours prior to the arrival date





Policy on No-Shows:

There are no cancellations after a booking has been confirmed

No-shows will be charged the full fee; no refunds, rescheduling, or re-booking will be permitted
Available Rooms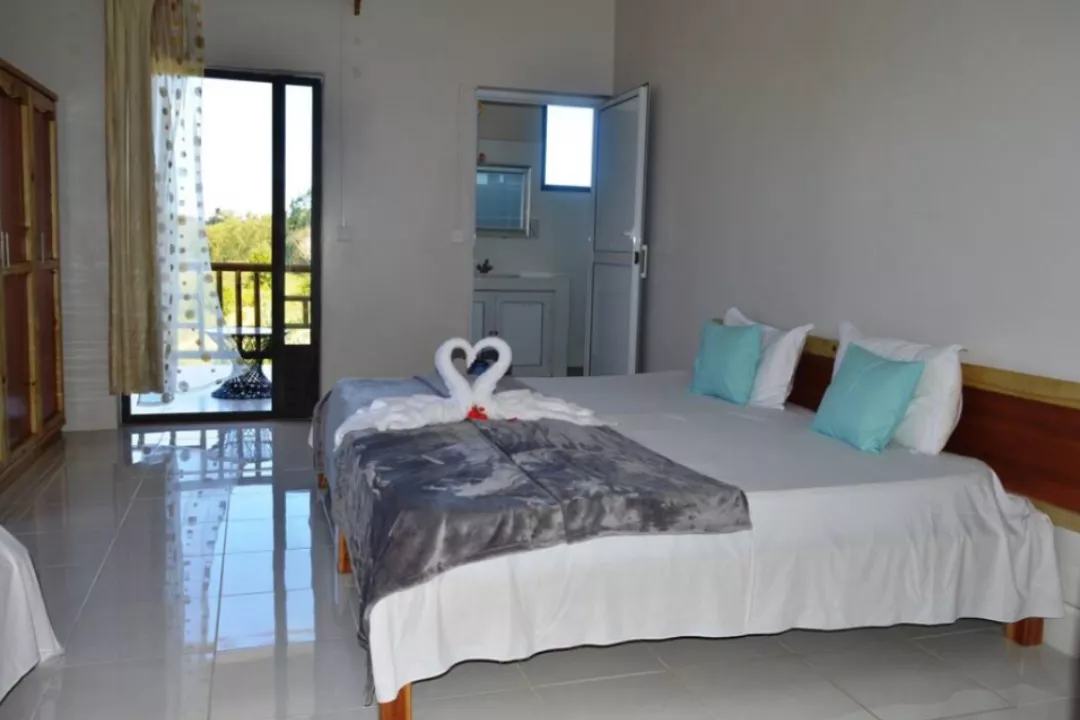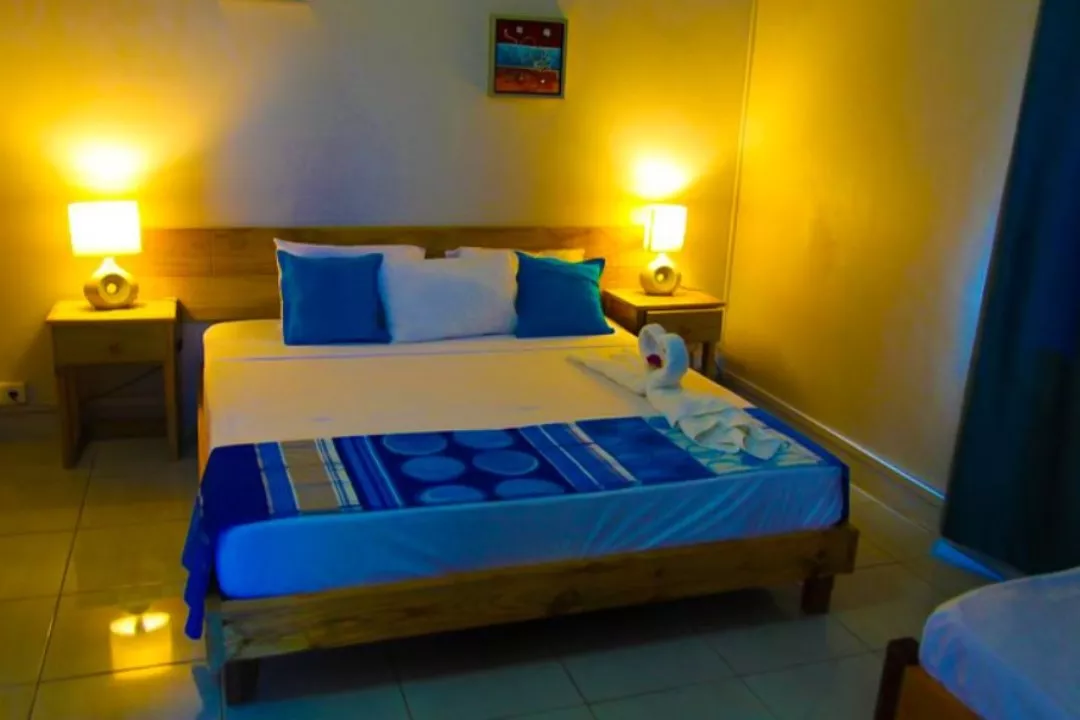 The property features a range of well-appointed accommodations, including spacious guest rooms and suites, each decorated in a style that reflects the unique character of Rodrigues Island. All rooms come equipped with modern amenities, including air conditioning, flat-screen TVs, and complimentary Wi-Fi. Guests can choose from a variety of room types, including standard rooms, superior rooms, and deluxe suites, each of which offers a unique blend of comfort and elegance.
Domaine Les Rosiers also features a range of on-site facilities designed to enhance guests' comfort and relaxation. The property boasts a beautiful outdoor swimming pool, a fully equipped fitness center, and a spa offering a range of rejuvenating treatments. For those who wish to explore the island, the hotel also provides a range of activities and excursions, including snorkeling, scuba diving, and island tours.
One of the standout features of Domaine Les Rosiers is its exceptional dining options. The property's restaurant serves a range of delicious Creole and international cuisine, with a focus on fresh, locally sourced ingredients. Guests can enjoy their meals in the restaurant's elegant dining room or al fresco on the terrace, surrounded by lush tropical gardens.
Overall, Domaine Les Rosiers is an exceptional property that offers guests an unforgettable vacation experience. With its stunning location, luxurious accommodations, and exceptional service, it is the perfect choice for those seeking a peaceful and relaxing escape to Rodrigues Island. And with its exclusive deals and promotions available on noudeal.com, it is easier than ever to experience the magic of Domaine Les Rosiers for yourself.
SIMILAR LODGE/GUEST HOUSES